Partner Agency Spotlight – Cleveland Rape Crisis Center
Imagine being reminded of a traumatic event every time you see your living room couch. This is the reality for some survivors of sexual assault. Something as simple as a couch or a bed can bring back terrible memories for these survivors and can stand in the way of beginning their healing journey.
Four years ago, the Cleveland Furniture Bank (CFB) partnered with the Cleveland Rape Crisis Center (CRCC) to assist their clients by replacing furniture items connected to an assault. Since then, the CFB has provided 32 CRCC clients with 379 furniture items.
We are proud to partner with the Cleveland Rape Crisis Center (CRCC) who support survivors of rape and sexual abuse, promote healing and prevention and advocate for social change. CRCC is committed to providing a safe, welcoming, healing, and respectful environment where survivors and their loved ones find support.
Our work at the CFB is helping sexual assault survivors in the region get a
---
Wishes for Bedding of All Sizes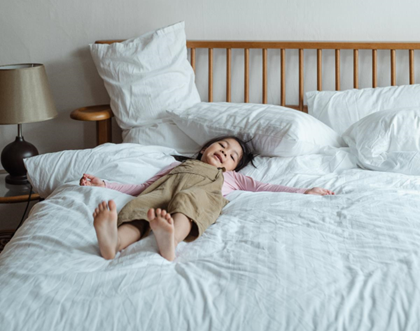 The CFB is so thankful to be able to deliver beds to those in need. Wouldn't it be great if along with that mattress, we were able to give a pillow, sheets, a quilt, or all of these?
If you would like to donate new bedding, you can drop them off at our store cash wrap and identify the items for use in the Furniture for Families program. If it is easier, go to
and order the size and color of the bedding that you would like to donate, and the items will be delivered to us.
We appreciate any contributions of bedding that can be shared with our clients.
---
Employee Spotlight – Jennifer Rucker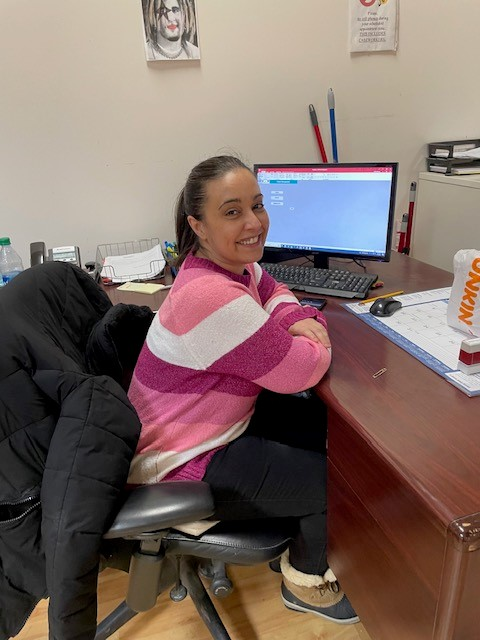 For over six years, Cleveland Furniture Bank's Jennifer Rucker has been helping our clients as our Program Coordinator. Jennifer spends her days setting up appointments with our clients so that they can pick out the furniture they need. She virtually works with clients as she walks around the warehouse using her phone to show them furniture that is available for their home. Each client is allowed to pick out ten to eighteen pieces, including beds for themselves and their children. Clients are able to pick out a sofa,
living room chair, dresser, kitchen table and four chairs. Side tables, desks, and bookshelves or china cabinets are also available if the client requests them. What Jennifer loves about her job is helping folks in need. She says "It makes me grateful for what I have because I see the struggles of many of our clients. Some of our clients' stories stay with me for years and it is hard to shake those memories."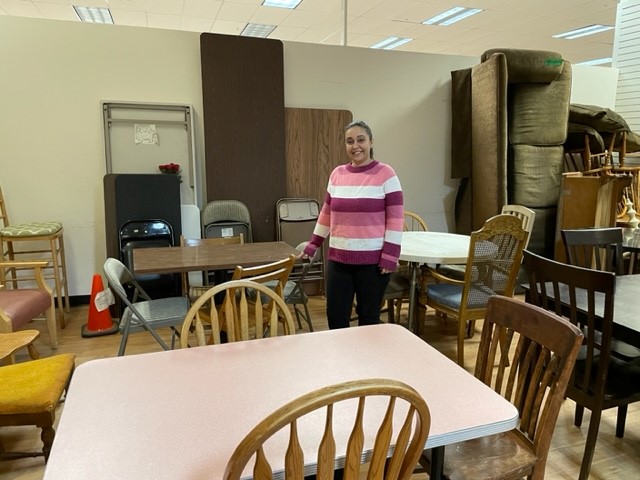 Jennifer pointed out that the biggest need is always kitchen and dining room tables and chairs. If we don't have the available inventory, then that day's appointments have to be cancelled. The request for donated bedding featured in this newsletter also comes from Jennifer. She remarks that it would be wonderful to be able to supply bedding with every bed that is delivered. Jennifer personally giftwrapped hats and gloves donated last fall so they could be delivered to our clients with their furniture.
We thank Jennifer Rucker for her personal care of our client's needs and her dedication to the mission of the Cleveland Furniture Bank.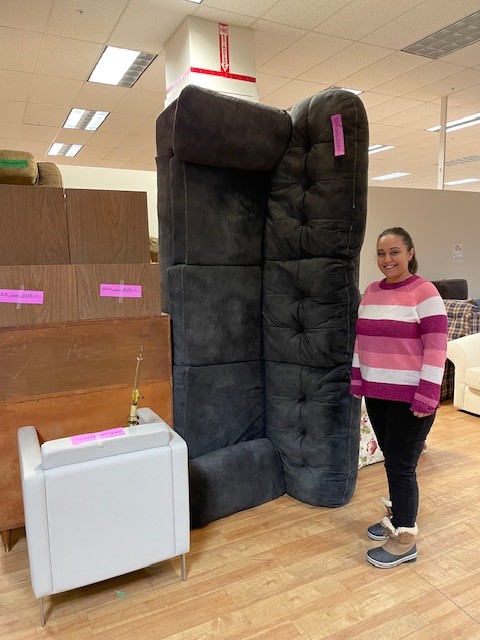 ---
Volunteer Spotlight – Olmsted Community Church
On a Saturday morning in November, a group of volunteers were sorting clothes and enjoying each other's company. They spoke about the fellowship they shared in spending time together while serving others in need.
Three times per month a group of volunteers from Olmsted Community Church (OCC) arrive at the Cleveland Furniture Bank to help with a variety of tasks. These dedicated individuals sort and hang clothes to restock the store sales floor, build donated furniture, test small appliances to ensure they work, and even restring donated instruments. At CFB our thrift store sales help to fund our mission of providing furniture to families in need. And the work of the OCC volunteers means so much.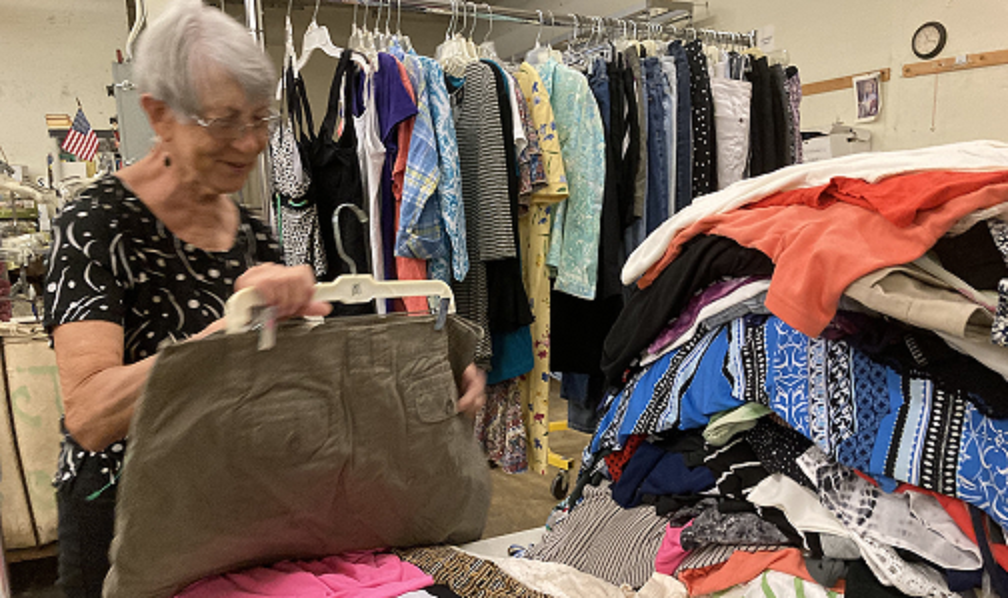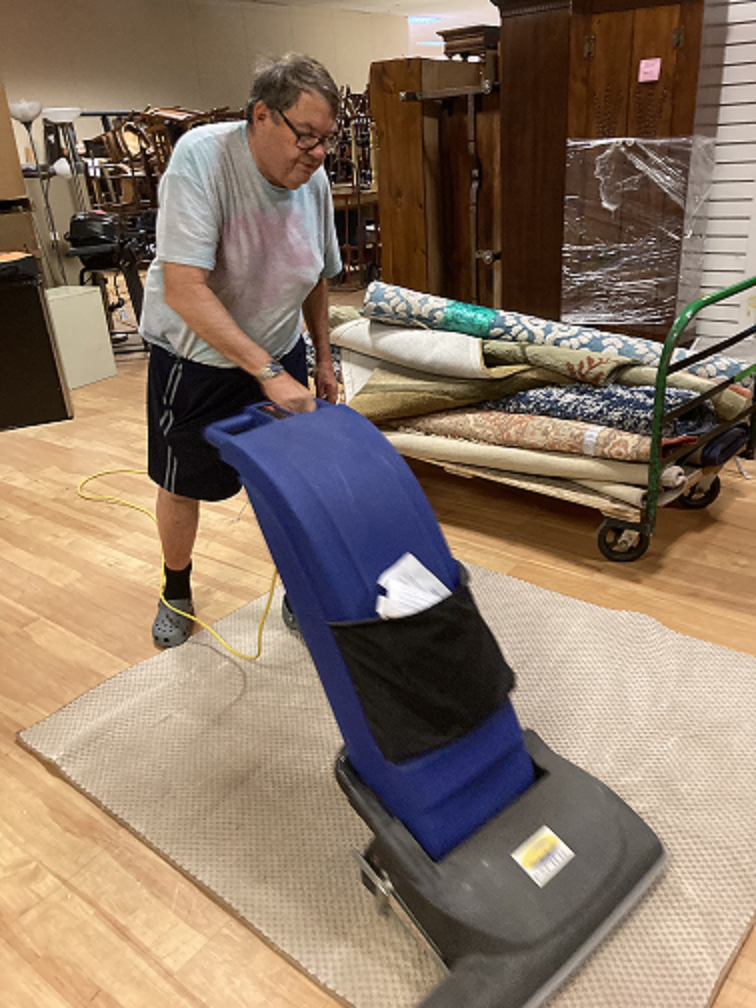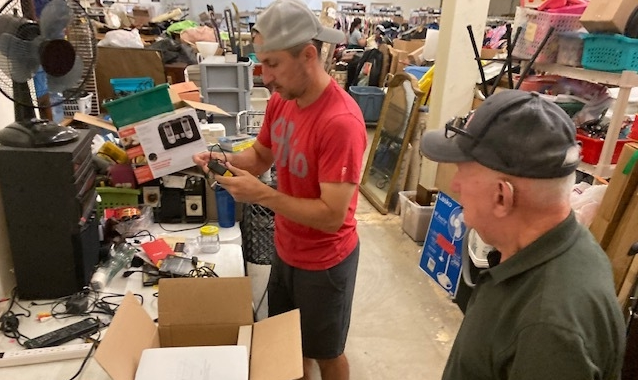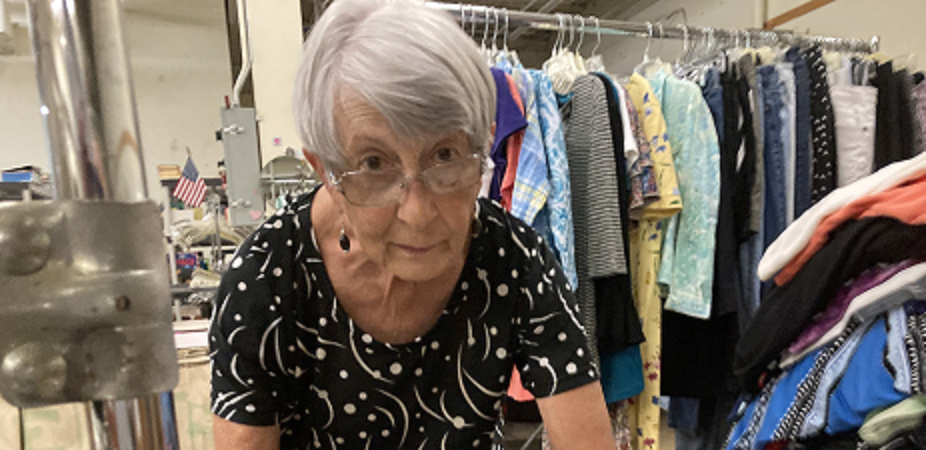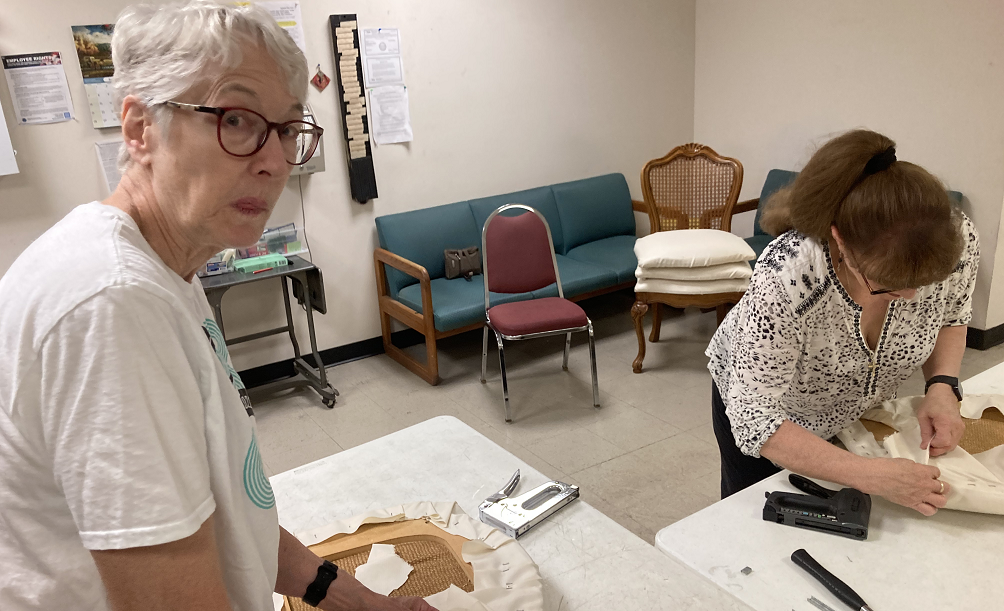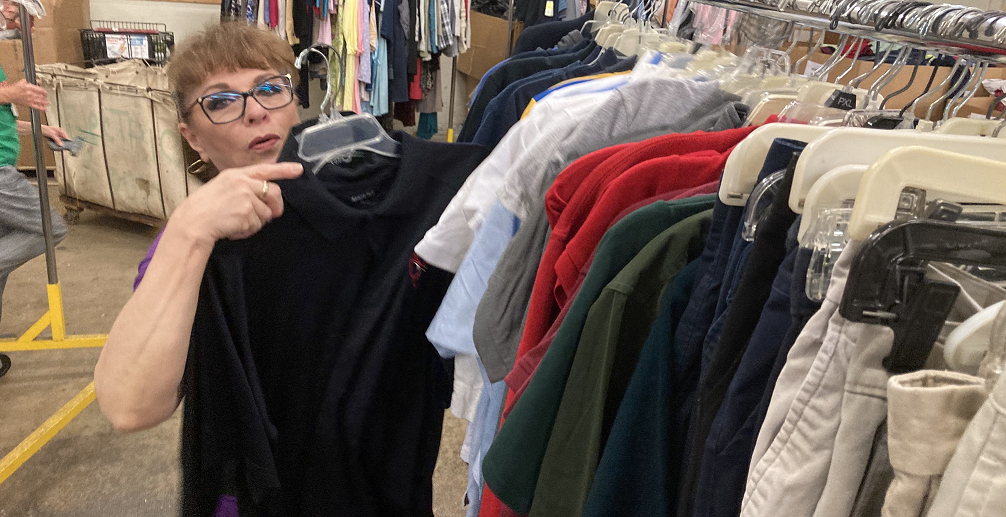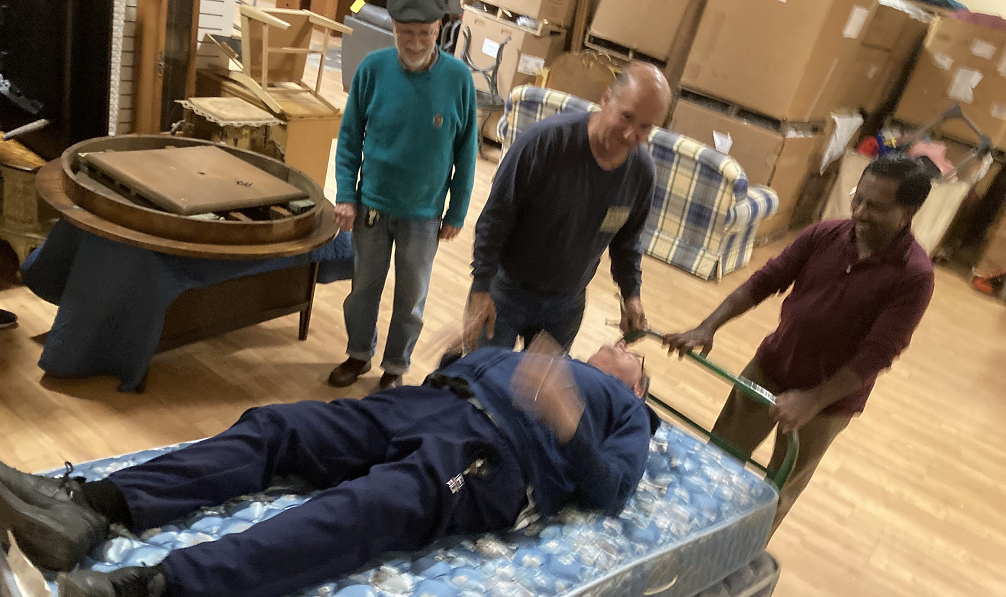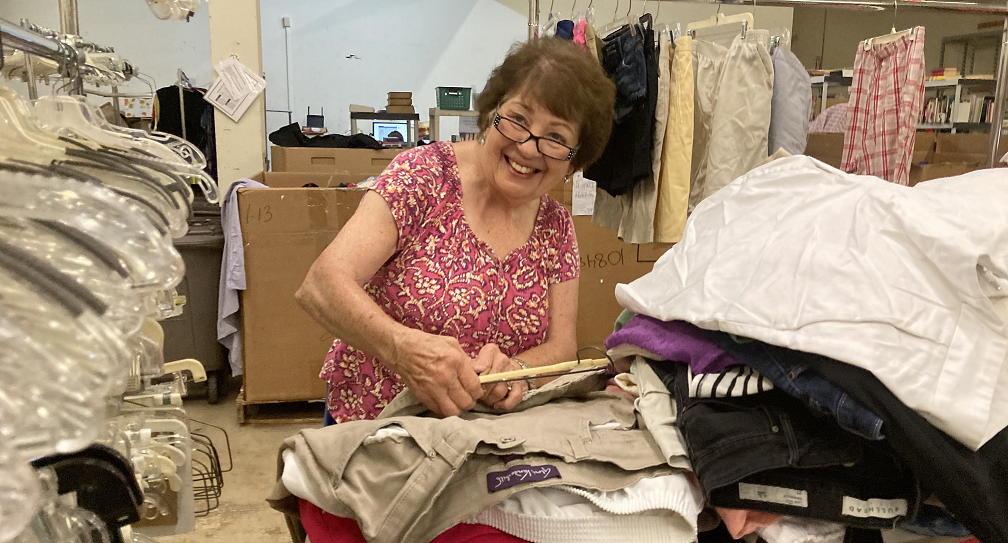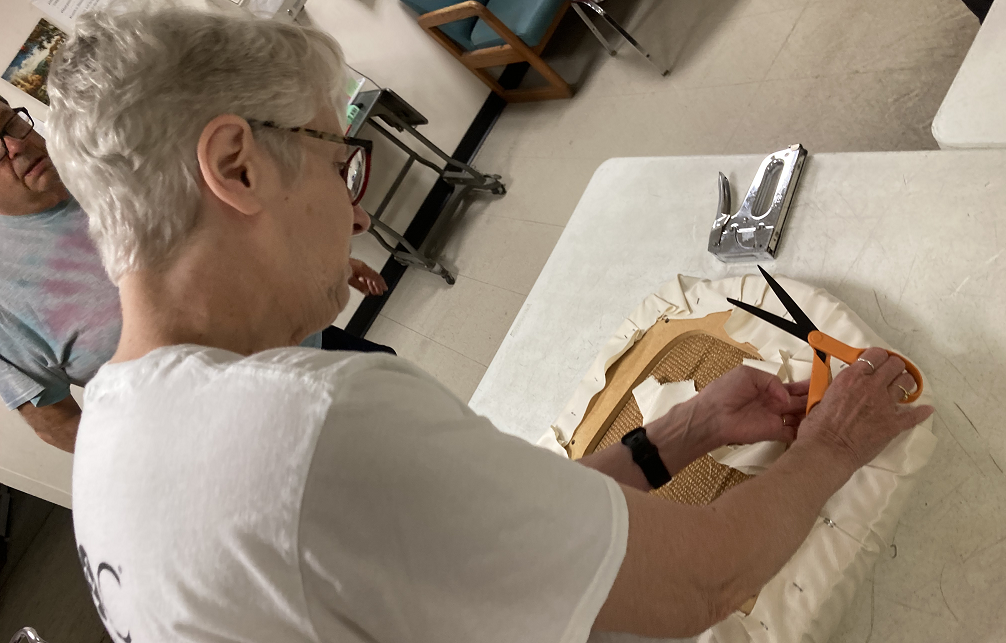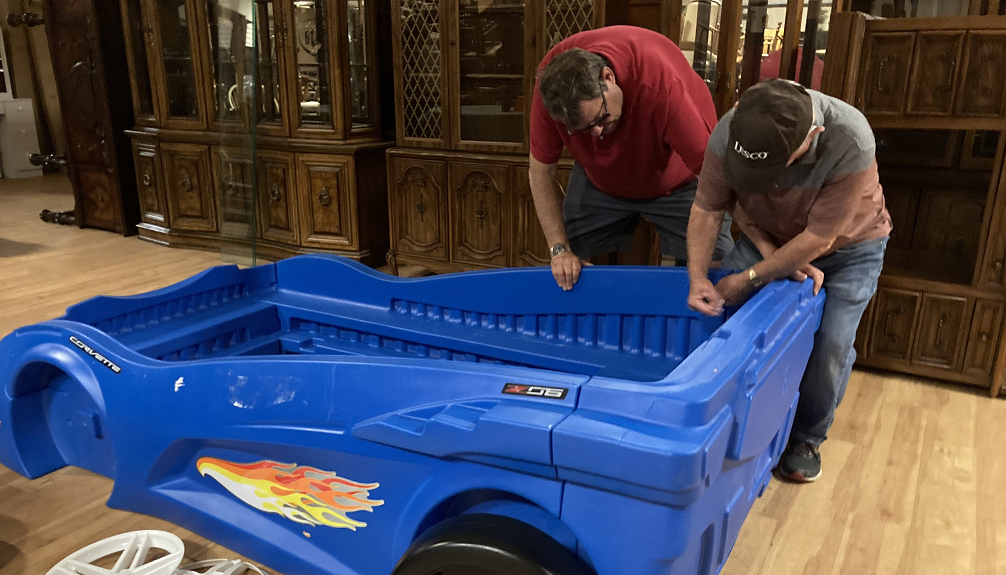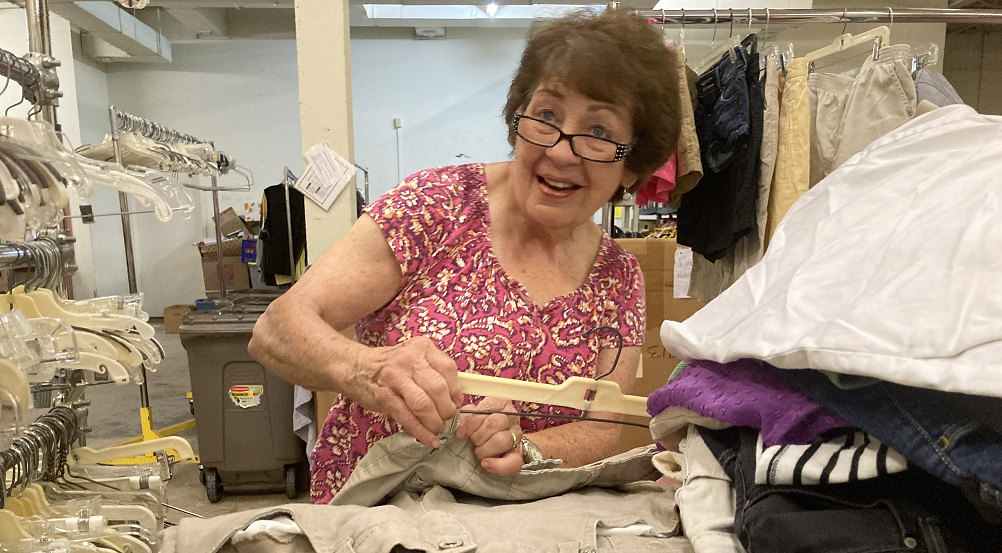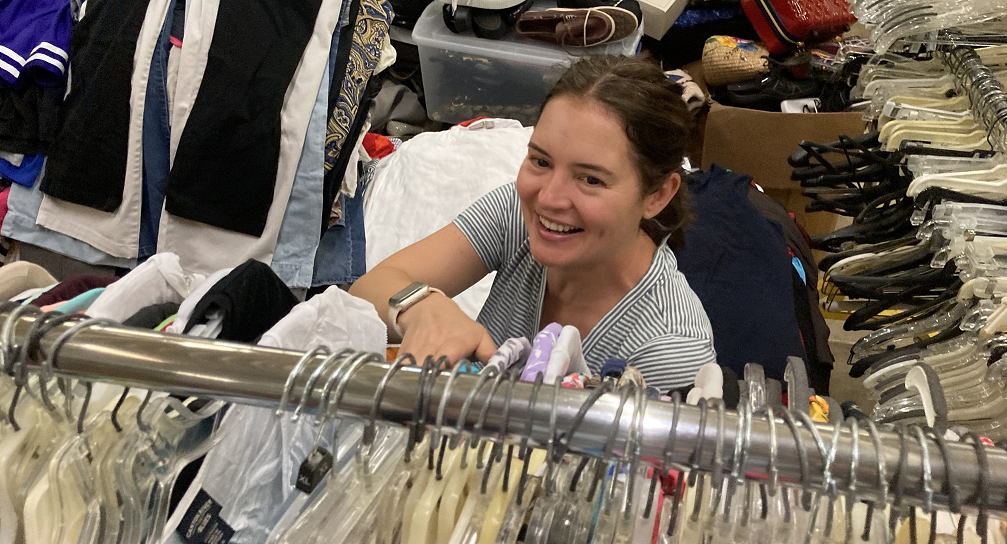 smaller – sue_IMG_8498 conv
smaller bill_henry_IMG_8502 conv
smaller – jayne_and_cheryl_IMG_8500 conv
smaller nick_manno_and_steve_IMG_8416 conv
smaller sue_IMG_8497 conv
smaller – jayne_and_cheryl_IMG_8499 conv
smaller Cheryl Sebjenics IMG_8419 conv
smaller bill_henry_IMG_8158 conv
smaller – jayne_duffy_IMG_8501 conv
smaller bill_henry_steve_IMG_8275 conv
smaller jan_kennedy_IMG_8496 conv
smaller michelle_manno_IMG_8421 conv
Mike Becher, a regular volunteer, shared that he started volunteering after learning about our Beds for Kid's program. Like many people in the community Mike was shocked to learn about kids in our community that don't have beds. Now he's making a difference through his volunteer work assembling beds and other furniture and other tasks. And he's making new relationships with others who share his passion and vision. What could be better than that?
Jan Kennedy continues to volunteer at the CFB because she realizes how many people it helps. She also enjoys the company of the other volunteers.
We are so grateful that OCC has been committed to our mission through regular volunteer service since the fall of 2021.
If you or your organization would like to volunteer at the CFB please contact Kelly at (216) 342-3627.
---
White Dove Mattress Supports the Beds for Kids Program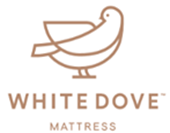 The Beds for Kids program began in 2013. When White Dove Mattress heard about the program, they offered to donate 100 twin mattresses and box springs. The employees volunteered their time to build the items and White Dove delivered them to our facility.
In 2022, White Dove celebrated their 100th anniversary as a company. As part of their celebration, the employees again volunteered their time to build another 100 mattresses and box springs and donated them to the Beds of Kids program.
Also in 2022, White Dove had regular and adjustable bed frames in boxes. The boxes had been damaged and they could not ship them to retail outlets. They choose to donate them to us.
Their donations over the last nine years have been a true blessing to our efforts to make sure the children of the families receiving furniture through our program have a bed on which to sleep.
We cannot thank them enough and encourage you to support White Dove the next time you need a new mattress.
---
Thank you for your support
Our year end appeal for financial support was a success thanks to the hundreds of people who donated to us. Even in these difficult economic times, we were encouraged by the response of so many people.
As of the time of this publication, we have received $ 91,245, up 13 % from the previous year. The monies received will help us continue to provide furniture and other items to the thousands of clients referred to the Furniture for Families program and new beds and mattresses to their children.
THANK YOU!
If you have good, usable furniture that you no longer need, consider donating it to us so that we can continue to provide those in need in Northeast Ohio with the items that turn a house into a home. You can schedule a home pick up by calling 216-459-2265, ext. 101 or go online and fill out a donation form at