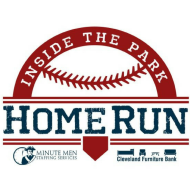 RACE
The 10th annual Inside the Park Home Run fundraiser this year will be held on June 4 at Progressive Field. The event includes a 4-mile chip timed run through the streets of downtown Cleveland, up the ramps of Progressive Field, around the warning track, and ends at home plate. There is also a 1-mile walk or run event up the ramps, around the warning track, and ending at home plate. Finally, there is a Kid's Race (under the age of 7) starting in center field around the warning track and ending at home plate. People can register at https://runsignup.com/Race/OH/Cleveland/Insidethepark or at the park the morning of the event starting at 7:30. The event starts at 9 am.
All proceeds from Inside the Park support Beds for Kids and Furniture for Families.
Thank you, Minute Men for the continued support.

NEWSLETTER
May's newsletter is HOT off the Presses. Click HERE to get your copy May 2023 Newsletter – Cleveland Furniture Bank – Cleveland Furniture Bank
If you would like to receive a copy of the newsletter in your email, please sign up to get the newsletter and other updates from Cleveland Furniture Bank. Here is our sign-up form: https://clevelandfurniturebank.org/join-cleveland-furniture-bank-mailing-list/
Interview
We are so grateful for the interview with Bill Wills, 1100AM. Telling our Story at the Cleveland Furniture Bank is a great way for us to let clients and furniture donors learn about how we can help in the community. Here is a link to the Interview: http://clevelandfurniturebank.org/wp-content/uploads/2023/05/5-24-Cleveland-Furniture-Bank-Tom-Gaghan-WILLS-WTAM.mp3
If you have good, usable furniture that you no longer need, consider donating it to us so that we can continue to provide those in need in Northeast Ohio with the items that turn a house into a home. You can schedule a home pick up by calling 216-459-2265, ext. 101 or go online and fill out a donation form at